This page contains examples of visualization projects and formats possible to aim for in the workshop.
Infographics and posters
UK's Homelessness
https://public.tableau.com/profile/kizley.benedict#!/vizhome/TomorrowTodayVizForSocialGood_0/UKHomeless
Isotype
Isotype (International System Of TYpographic Picture Education) is the name of a graphical symbol language created in 1925 by Otto Neurath (initiator) and Gerd Arntz (designer). Its main purpose was education in museums and books.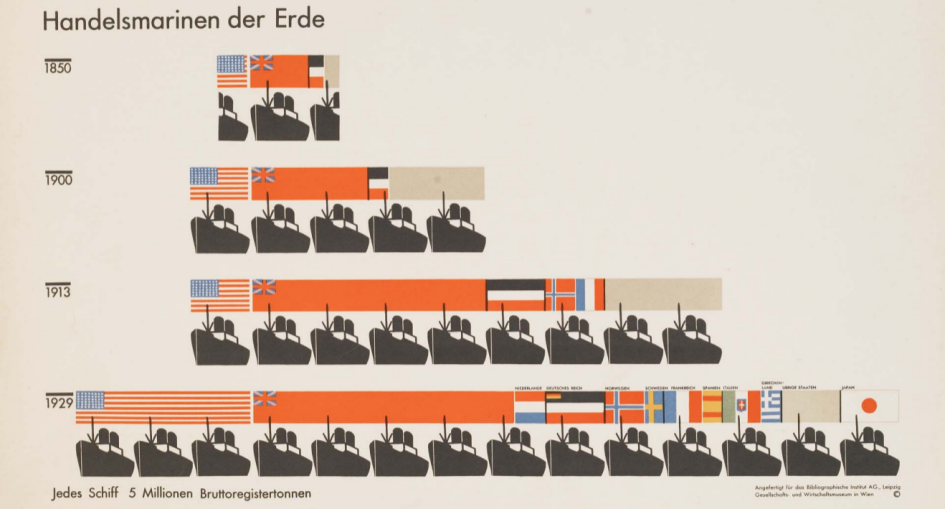 Save Skies
http://multimedia.scmp.com/news/world/article/safety-aviation-2017/index.html
(Interactive) Web-stories
Bussed Out—How America moves its homeless.
https://www.theguardian.com/us-news/ng-interactive/2017/dec/20/bussed-out-america-moves-homeless-people-country-study
The Water we Eat
This is a story about the water used to produce our daily food. Keep scrolling while you watch this online webstory: http://thewaterweeat.com
The Stories Behind A Line
«The Stories Behind a Line» is a visual narrative of six asylum seekers' routes. They travelled from their hometown to Italy. This project wants to tell their stories through the data that shaped their personal travelling line: http://www.storiesbehindaline.com
Data Comics
Data comics are a novel approach to exploit the visual and narrative power of comics to create compelling visualization-stories. Examples and more information here: https://datacomics.net.
Global Migration

European Alliances before World War
The Fragile Framework
A comic about climate change by Nick Sousanis, published by the Nature magazine in a special issue. (See the full comic here: link).

 Physical Visualizations
Data physicalization are physical shapes and sculptures representing data. While they have existed for thousands of years, advances in digital fabrication and our improved understanding of data visualizations opens new ways for engage in data visualization and communication; due to their tangible and realistic shape, data physicalizations aim to help people explore, understand, and communicate data. Yvonne Jansen and Pierre Dragicevic have started an astonishing collection of physical visualizations: http://dataphys.org/list.
Pop-up and Paper Visualizations
Data Videos
Wealth Inequality in America (USA)
Global Wealth Inequality
Why Some Countries are Poor and others are Rich
The Fallen of World War II
What if the Only 100 People Existed on Earth?
Life Presentations
Hans Rosling and Gapminder
Hans Rosling became famous for this engaging and comprehensive life presentations that used animated and physical data visualizations to lecture about global health.
Augmented and Virtual Reality
(on its way…)